Partner of the local public sector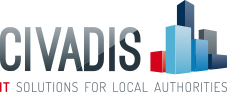 Civadis is a subsidiary of the Adinfo holding company, of which NRB is the majority shareholder since 2010. Civadis is an ICT solutions & services company dealing with local public authorities for more than 40 years. It is the fruit of the merger between Adehis and Stesud in 2014. In 2017, it generated a turnover of 25.7 million euros has nearly 200 employees. It is the main supplier and partner of local authorities in Wallonia and Brussels. 
Civadis's mission is to support ICT efficiency in the functioning of public administrations and in their interactions with citizens. This mission is more relevant than ever, given the fact that services to citizens and the way citizens consume these services are based on digitisation of communication, information and insights. Local public authorities have an important role to play as facilitators and accelerators of the digital transformation of companies, administrations and citizens. They need to translate the new practices of citizens and of companies into smart and mobile solutions so as to better interact with them.