Partner of the local public sector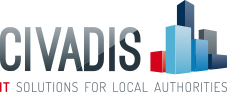 Established in Namur in 1969, Civadis stands for 50 years of experience in the development of management software for local public administrations. In 2020, Civadis realised a turnover of 25 million euros employing about 200 people. In 2010, Civadis joined the NRB Group, one of the leading Belgian ICT service providers. 
Civadis aims to meet the specific needs of its customers by: 
Developing the decision-making tools necessary for the proper management of administrations while simplifying the interactions with citizens and businesses;
Supporting its customers on a long-term basis in the deployment of innovative software and hardware solutions;
Assuring the availability of their IT services towards their customers;
Creating high value-added solutions based on both technological know-how and acquired expertise of the functioning of Local Authorities.