Mobility at the service of quality and transparency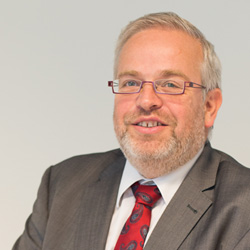 Frank Geelen
Quality and transparency are priorities for ISS. According to CFO Frank Geelen, both lead to satisfied customers and personnel, and thus to sustainable growth for the company due to their benefits for maintaining commercial relationships. This is crucial in the facilities sector where competition is fierce. ISS researched how technology could further help improve quality and transparency.
"ISS has several hundreds of supervisors in Belgium performing quality controls for our customers every day," starts Frank Geelen. "Digitising the relevant documents and reports and making them available remotely helps our employees work faster and more efficiently. Customers receive reports immediately after the control, which are much more complete than before."
Developed in the field
ISS called on the expertise of the NRB Group to develop a quality control system suitable for mobile use. Afelio, the subsidiary of NRB that deals with mobility, listened attentively to what ISS wanted, developed the application, and put it in production after a successful test phase.
People who work in the field were closely involved in the project right from the start. "A very conscious decision," explains Frank Geelen. "They are most familiar with the procedures, understand our customers' requests best, and know what they need. Afelio and NRB led workshops in which supervisors from ISS explained their views on certain issues, and regional managers added their input too."
Quality control takes place either with or without the customer. It can involve controls on technical maintenance, cleaning, catering or garden services. Customers choose for themselves how often they take place – daily, twice a week, etc. – and a full schedule is drawn up and distributed to the team. The controls can be either announced or unannounced.
Let's use a university building as an example: auditoriums are cleaned every day before class. Some of these rooms are fitted with specific technical equipment, such as projectors and other teaching aids. The supervisor controls the various aspects needed to complete a verification, which assures the customer that everything has been carried out as required, e.g. wiping the lecture room board clean, ensuring there are pens available, the audio installation is working properly, and so on. As soon as the supervisor completes the control, the customer receives a report saying the auditorium is ready. If the supervisor finds any issues that need further attention, a team is called to resolve the problem. 
Smartphones and tablets 
"Today our people look at the planning on their tablet or smartphone to find out which rooms they have to control in what order. They go over the checklist to ensure they do not forget anything, take photos to add to a dossier and create reports. When the report is ready, it is automatically sent to the customer, the regional manager and the supervisor. It is also saved on an extranet where the customer can view it too," explains Frank Geelen.
Different models of smartphone or tablet are used depending on the types of controls the supervisors are carrying out. At the end of 2014 there were some 300 devices in use altogether, including iPad tablets or Samsung Android smartphones for office environments and robust Motorola Ruggedized devices for outside controls.
Less administration, more quality
"Thanks to the digitalization, the whole control process is much faster and more accurate now," continues Frank Geelen. "It used to be much more labour-intensive with pen and paper reports which then had to be sent to the customer. The manual work required lots of administration and took a long time. The fact that our people are now using technology that our competitors do not have is something we are very proud of. It is a great solution, not just to our quality requirements, but also to those of our customers. They no longer need to carry out any extra controls, and people document what has been done faster. We eliminate manual tasks and increase the transparency and the efficiency of our operations."
Time for phase two
ISS split the implementation of the new control system into different phases. About a third of all supervisors used the new application in the summer of 2014. There was lots of enthusiasm and they were able to make suggestions for improvements since it was in use on a daily basis. The checklist is now being extended and a few new functions have been added, such as time registration and planning management, enabling people to do their work much more easily and efficiently.
A long-term partner
"When we were investigating our technological issue, we started by organising a number of workshops to map everything out and define our wishes. Then we consulted the market. A ready-made, off-the-shelf application for our sector would have been good, but did not appear to exist. Of the four proposals we received, the one from the NRB-Afelio partnership was the most interesting. The NRB Group was very flexible when developing the application, leading workshops excellently and listening very attentively to what we wanted. They had the required expertise, and their knowledge of our sector was a decisive factor. Their price/quality ratio was the best. The application had to integrate with our existing systems, which has been a great success. We do not have a very big internal IT department ourselves, let alone our own developers. And long term thinking is also very important in our choice of partners; I am only going to go into business with companies that are going to be around for many years to come," concludes Frank Geelen.