Urban Platform – City OS: new concepts at the service of #Smartcities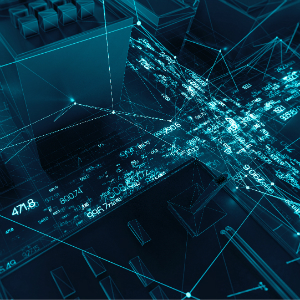 Increasingly referred to in specialized literature, the concepts of Urban Platform or City OS are presented as the best way for towns and cities to become 'smart cities'. The digital platform concept is not new and has been used by major world players for years, but the notions of openness and interoperability currently associated with it are new without any doubt.
The concept of a central digital platform that became popular a few years ago was primarily linked to technology, in general proprietary technology owned by a single major player who took care of all operational processes of a town / city and provided a centralised 'cockpit' to monitor all of its flows and KPIs.
Although this is an attractive model, it has its limitations.  First of all, it often involves a considerable investment since it requires the implementation of extensive proprietary infrastructure.  As a result, medium-sized towns / cities cannot afford this model, and this is the case for most Belgian municipalities.  In addition to the financial aspect, towns / cities may feel that they lose control over the processes and data entrusted to and managed by a private operator.  It is widely known that data generated by towns / cities and their inhabitants are valuable and in high demand.  Local authorities have come to realise this and are gradually taking back control over their data.
As this is a dynamic and a strategy rather than a technical implementation, what basic factors need to be kept in mind to create this dynamic?
The first challenges are situated at the municipal level, since all departments have to be persuaded to make their data available, even if they initially think this is not really relevant.  The format and quality of the data are also essential, but should not be a barrier to data exchange.
From a technical or technological perspective, the installation of an Enterprise Service Bus (ESB) appears to be a prerequisite for facilitating the interoperability of the solutions implemented.  The ESB technique enables communication between applications that have not been designed to function together.  This infrastructure will be the principal interface of your architecture, what could be called the 'backbone' of your City Operating System (OS).  This architecture is already widely deployed and tested within large private or multinational organisations, and is particularly useful within the scope of a city or region facing the same challenges with respect to integration and communication.
Below you will find the architecture implemented in a sizeable European city with, in addition to this ESB, several large building blocks such as an identification and security module, a semantic module and a process description.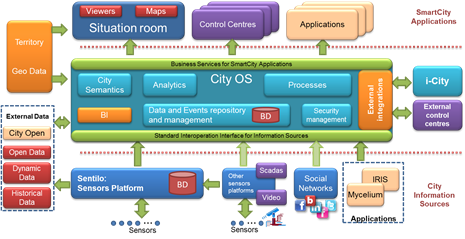 Lastly, we would like to point out that each actor within the ecosystem should provide Application Programming Interfaces (API's) that greatly facilitate the exchange of data between applications.  All new specifications issued by a local administration should oblige solution providers to make their data accessible via an API.
As you will have understood, the implementation of a robust, scalable and open architecture not necessarily including all building blocks, is a major challenge for the digital platform of the city of tomorrow.
Contact us
t. +32(0)4 249 72 11
t. +32(0)2 286 57 11