NRB : your Cloud partner in Belgium
Offering services based on a pooled infrastructure has been NRB's business for over 25 years. We are and intend to remain a local operator, which is close to its clients and has a decision-making centre in Belgium that you can access directly and easily.
NRB evaluates the benefits of the cloud in the context of your specific needs!
Our data centres are fitted with cutting-edge mainframe (IBM and Bull) and distributed equipment. Our client's data are kept are our data centres in Belgium, in a fully confidential and secure manner. Our infrastructure is level Tier3+, according to the criteria of The Uptime Institute, the world authority on data centres.
Why do people talk about a "hybrid" cloud ?
The advantages of the cloud model no longer need to be proven. People call on cloud solutions and services for reasons of adaptability, cost and flexibility. But do you know where your most critical data are at all times? Are they properly secured? How many suppliers do you have? Meanwhile, what will happen if one of them suddenly changes their terms and conditions of use? What is the guaranteed service level?
At NRB, we have come to the conclusion that it is simpler and more effective to rely on a single partner for all your IT requirements, even the most specific ones. This is why we are offering you this Hybrid Cloud model, which enables you to combine the benefits of NRB's private Cloud in terms of security, cost, and local presence, and to call on public cloud services without being required to go through different suppliers. In this context, we play the role of an integrator, and organise your IT environment in a completely transparent way.
The benefits of NRB's Hybrid Cloud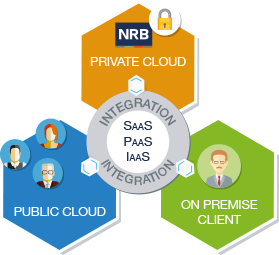 Our
Hybrid Cloud 
services
Security and continuity
NRB's Private Cloud is a closed environment, that is strictly controlled and where the security has been proven.
NRB has multiple back-up and redundant solutions in order to guarantee the preservation of your data regardless of the circumstances Our DRP (Disaster Recovery Plan) provides for restoration even during the worst disaster scenarios. For instance, we can continue to provide a seamless service in the event of a blackout. Furthermore, the service level offered is defined independently for each client within an SLA (Service Level Agreement) and guarantees your business continuity.
Agility and innovation
Our Hybrid Cloud supports your digital transformation.
NRB's Hybrid Cloud is a flexible environment designed to meet all your organisation's IT requirements (infrastructure, platforms or applications) very quickly. Our knowledge of mainframe technology and distributed systems, and our ability to integrate with public cloud services enable us to offer you appropriate solutions. For instance, you can benefit from a public cloud development environment and from a production environment at NRB, a solution that is often consistent in terms of reducing costs without taking any risks. Fail fast and cheap!.
Performance and Real Time Availability
Our aim is to offer an increasing performance level at competitive prices. Aside from a traditional infrastructure, we are investing in Engineered Systems (Oracle Exadata, and SAP HANA, etc.). and are setting up convergent infrastructure. An engineered system is an environment where the hardware and software have been designed together for a single purpose (purpose built) whereas a convergent infrastructure assembles all the layers of a solution (network, servers, middleware, and software, etc.) in a single environment. All these investments, together with our initiatives for automating procedures to the extent possible, are intended to improve the performance offered by aiming towards fast provisioning, and immediate availability, while optimising costs.