Organization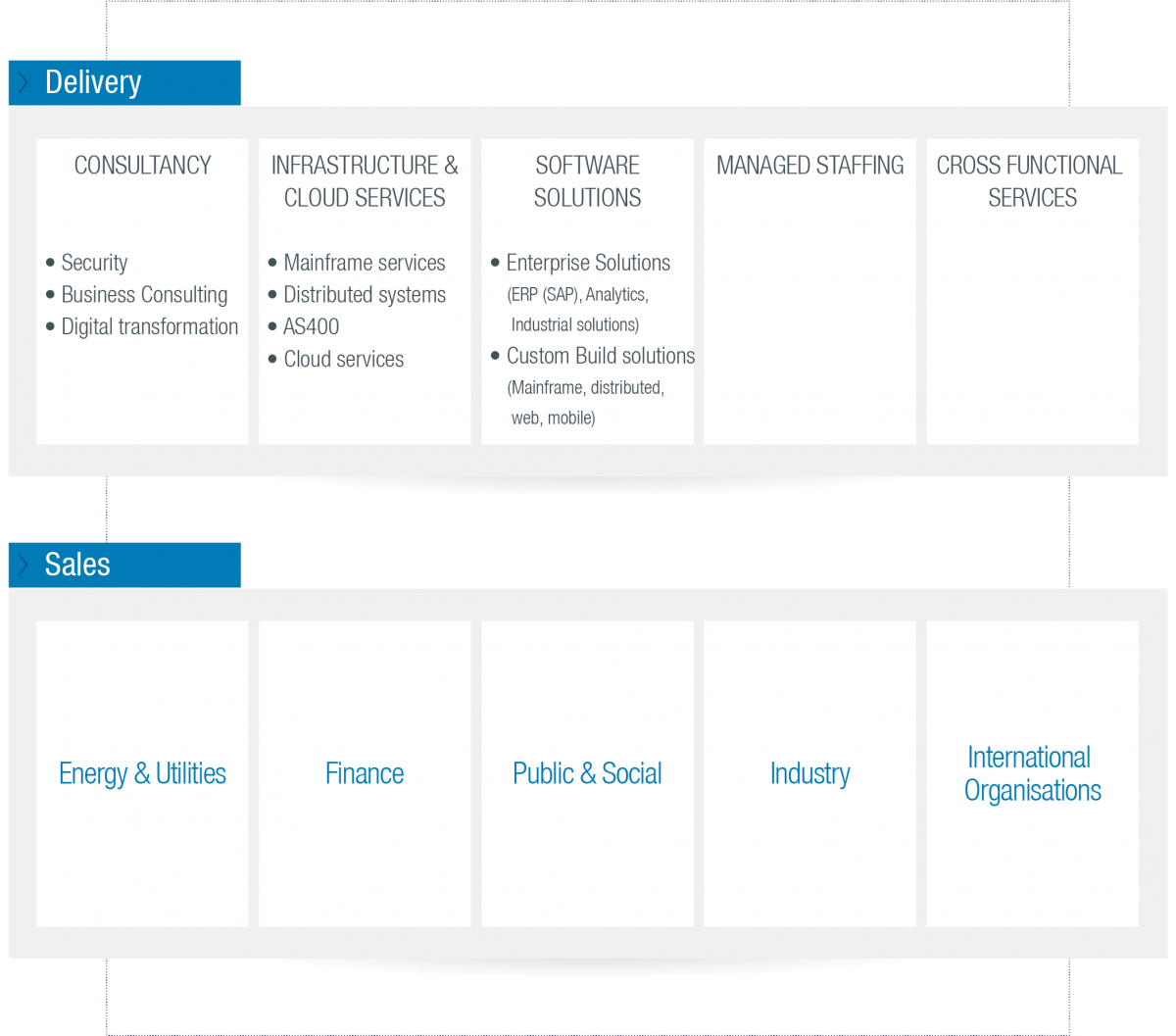 Running Business Model
With a consolidated turnover of 317 million EUR and more than 2,000 employees, the NRB Group currently ranks in the top three of the Belgian ICT sector.
NRB helps its customers fully use the assets ICT technology can offer them to optimise their processes, to innovate and to allow their business to grow and change in order to better align with the new digital reality.
In this context, we offer a full range of solutions and services based upon four axes:
Consultancy
Software
Infrastructure & cloud services
Managed staffing.
Our consultancy services not only involve the work of our ICT & business consultants who guide you through the (digital) transformation of your organisation, your systems, your processes and your business models. We also have a team of ICT and cyber security specialists assisting you to draft and implement the right policies (for GDPR, security and other standards) and ICT solutions to safeguard the integrity of your organisation, its systems and its data.
The software services include the development of customised solutions by teams in Belgium and in our nearshore centre in Athens, Greece. Our development teams manage a wide range of technologies to develop mobile and web applications as well as business applications for distributed or mainframe environments. Next to custom software, we also deliver software solutions based on packages (ERP, BI, SCADA…) of major software vendors (SAP, Microsoft, IBM, Cisco, Software AG etc.) which we customise according to the specific needs of the customer and the project. Moreover, our specialists vouch for the implementation, integration and application management and maintenance of the delivered software solutions.
NRB's infrastructure and operational management services include housing and hosting of mainframe, AS400 and distributed systems. Within this scope, NRB relies on its own data centres, which are spread over two geo-resilient sites in Belgium: an infrastructure that meets the requirements of the Tier 3+ level as defined by the Uptime Institute. Thanks in part to this infrastructure, NRB is in a position to offer its customers integrated and customised hybrid cloud services. In line with the customer's needs, NRB can get the most out of three ICT environments: 'on premise' at the customer, the NRB private cloud and the public cloud. NRB can assure connections and integrations where and when needed and manage the complete environment on behalf of the customer.
Finally, NRB offers managed staffing services that aim to provide its customers with the best profiles, at the best price, and geared to suit their requirements.
NRB focuses on the key sectors in our country: the public and social sector, energy and utilities, banks and insurance companies, and the industry, while Trasys International – which is part of NRB – serves European and international institutions and corporations.
Supported by the Group's economies of scale and assets, such as its ICT infrastructure, the other affiliates of the NRB Group deliver sector-specific solutions . Xperthis offers specialised ICT solutions and services to the healthcare sector. Cevi and Logins (Flanders) and Civadis (Brussels and Wallonia) are specialised in ICT products and services for local authorities.