Belgium DC: NRB invests in a new data centre to strengthen its customised hybrid cloud solutions

NRB is investing several million euros in the construction of a brand-new data centre in Villers-Le-Bouillet. The ground was broken in February 2017. The new data centre should open its doors in autumn this year. This investment is part of the further development of NRB's own distinct cloud strategy. The construction of the new data centre is NRB's next step towards the data centre of the future: one with intelligent software at the helm.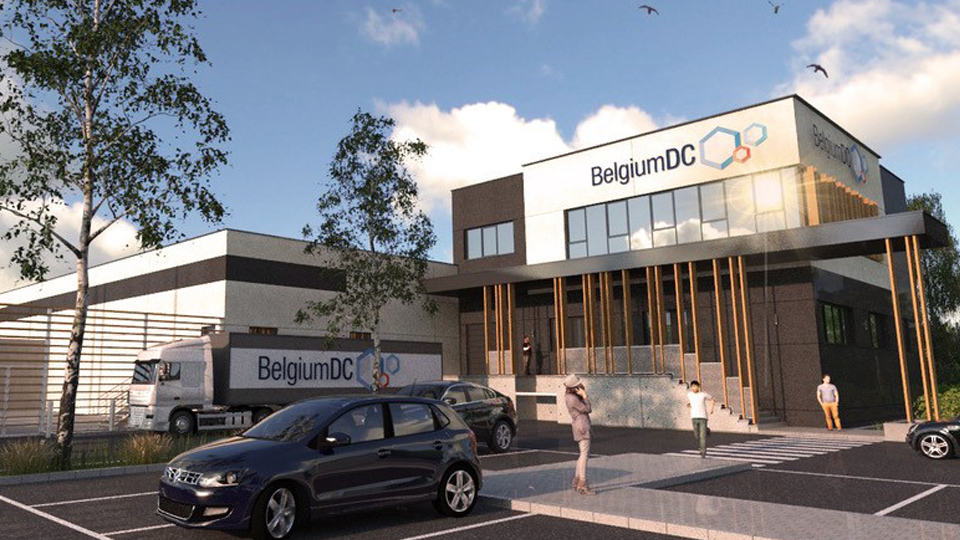 Has the cloud become the norm?
Pascal Laffineur, CEO of NRB: "That we are evolving towards a cloud model is a foregone conclusion.
It has become common practice to use ICT as a service that is available through the internet (or some other network) and to pay for it according to use. That said, there are still some important caveats to mention. There is no such thing as a unique, all-encompassing cloud solution. Global cloud providers like Amazon, Google and Microsoft provide solutions that offer standardised, industrialised environments. These solutions definitely serve their purpose. However, the environments most companies operate in are not ready for this level of standardisation. At NRB, we strongly believe in the cloud model, but we want to be able to offer appropriate customised solutions geared to the specific needs of clients."
Will all companies suddenly make the transition to a cloud model?
Pascal Laffineur: "The major challenge is the transformation of a customer's existing environment to a cloud model. The complexity of this transition often discourages customers from relying on cloud services. NRB's main advantage is that we are not asking our clients to go for a big bang approach. What we are offering is a sequence of stepping stones between the current situation and a design which enables them to use the technical, financial and other advantages of the cloud model to the best possible effect. In other words, we think along with the customer about how they can best make the transition step by step."
What should the client put in the cloud and what not?
Pascal Laffineur: 'Besides transformation, the second key word is "integration"! There isn't a single client that would decide to move its entire environment to a cloud environment. Most decide to rely on cloud services for some parts of their ICT environment only, and rightly so. That decision may be driven by considerations to do with security or the confidentiality of the information. It goes without saying that the part of the environment that is in the cloud needs to continue to work together with the rest of the environment that is still under the client's wing. This not only calls for a connection between the two environments, but especially for proper integration, even more so as we are increasingly relying on specific services or ready-made "building blocks" from the public cloud to build or extend customised solutions. After all, we as the integrator are not interested in reinventing the wheel and want our clients to benefit as much as possible from the cost and time savings that can be achieved in this way. In other words, we get the most out of the three IT environments (i.e. the client's premises, NRB's private cloud and the public cloud). We ensure that we connect and integrate where needed and that the complete setup can be properly managed.
What distinguishes NRB from global cloud service providers?
Pascal Laffineur: "We realise we have to use our strengths as a Belgian player to the fullest in order to be able to compete with the global players. Our main strength is in our people, who have over 30 years of experience with an exceptionally broad range of technologies – from mainframe applications to distributed systems, AS400 and cloud services –and can advise and assist our customers first hand. Not only are our engineers and management by the client's side, our data centre infrastructure, too, is just around the corner. The latter is also essential for many companies who need to demonstrate for legal and other reasons that their data is on Belgian soil."
Does NRB's new data centre constitute a technological upgrade?
Pascal Laffineur: "NRB took the decision to invest in the modernisation of its infrastructure by building a brand-new data centre in Villers-le-Bouillet, some 30 kilometres away from the group's headquarters in Herstal. The first construction phase will involve a total investment of approximately 4.3 million EUR. Needless to say, the new data centre will be linked to NRB's existing data centres in Herstal (via dark fibre), and together they will form a geo-resilient platform. The new data centre will be equipped with state-of-the-art technological facilities and will meet the requirements of the Tier III level as defined by the Uptime Institute. The construction of this new data centre is a next step towards a software-defined data centre (SDDC). Everything will be software. ICT infrastructure management will also become increasingly automated and controlled by intelligent software. This is also a great opportunity for us to apply our own cognitive and service analytics solutions; in other words, we feed the data generated by our own systems to our big data engines to improve the management of our own data centres. A win-win situation for NRB and for its clients."
Contact us
t. +32(0)4 249 72 11
t. +32(0)2 286 57 11